Over the past three decades, the Nigerian film industry has built up a remarkable reputation for not only producing some of the most exciting films in the region but also for inspiring new film industries across the entire Africa continent on its way to becoming the world's second largest film producer, according to PwC.
Nollywood, as it's better known, is one of the best ways to showcase and experience the diverse cultures of Nigeria and Africa.
(TOP: Nollywood star Rita Dominic – second from right – with LG representatives during a past event as a brand ambassador).
With the rise of the African cinema industry, more Nigerians and fellow Africans have been able to discover and appreciate blockbuster films that feel much closer to home. A recent study even showed that Nigerians are spending much of their free time getting together with friends and family to watch domestic films instead of foreign imports.
As one of the world's most familiar consumer electronics and home appliance brands, LG Electronics is investing in African consumers' love of great entertainment and its power to bring people and cultures together by partnering with big screen superstars Richard Mofe-Damijo and Rita Dominic who were named LG Brand Ambassadors. As the celebrity spokesperson for LG OLED TVs, Mofe-Damijo is involved in events and social engagement activities to introduce consumers to the advantages of LG OLED TV technology. As the new face for LG home appliances, Dominic will be featured in advertising campaigns as well as participate in product launches and social media influencer activities on behalf of the company.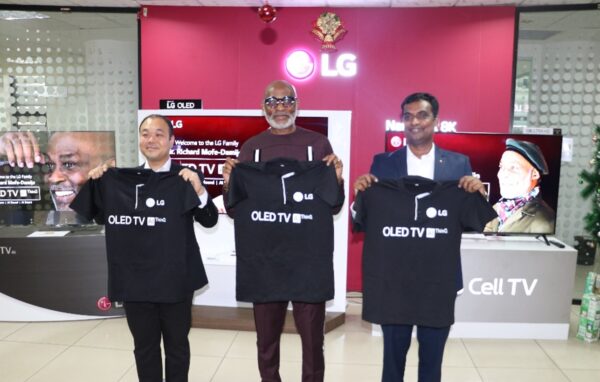 Richard Mofe-Damijo, better known as RMD, is a Nigerian actor, writer, producer and lawyer who even represented the country's Delta State as Commissioner for Culture and Tourism. In 2005, he won the Africa Movie Academy Award for Best Actor in a leading role and later went on to receive the ceremony's Lifetime Achievement Award in 2016.
A beloved actress, producer and the co-founder of The Audrey Silva Company, Rita Dominic got her first starring role in Nollywood hit A Time to Kill, and has starred in over 100 Nollywood movies since, earning several prestigious awards in the process. Rita is the only actress to have won AMVCA's Best Actress award in both the drama and comedy categories and remains the only West African actress to have won at Kenya's Kalasha Awards. Undisputedly one of Africa's finest leading ladies, CNN has described her as a "silver screen icon" capable of "embodying a range of colorful characters."
"Richard Mofe-Damijo's undeniable style resonates with the essence of our OLED TVs, while Rita Dominic is a woman of the people, hugely popular because of her graceful poise and powerful brand identity. This is why we wanted both as our newest ambassadors," said Kim Dong-youn, managing director of LG Electronics West Africa.
"The brand's state-of-the-art living solutions seamlessly combine the best designs with the most advanced technologies to achieve ultimate performances," said Dominic. "They're never willing to settle for second-best particularly in a time when most people around the world are either working or learning from home."
Much like how films and the cinema experience not only bring people together but also connect on a deeper emotional level, LG Electronics is committed to making life better for consumers around the globe with its various innovations that have been endorsed by inspiring ambassadors that consumers can resonate with.
(From LG blog).