This June, Showmax is ramping up its slate of international titles with some of the biggest movies. More details below.
Nope. The Woman King. The Northman. The Fallout. The Bad Guys. DC League of Super-Pets. King Richard.
NOPE | Stream from Thursday, 22 June
From Oscar-winning hitmaker Jordan Peele (Get Out, Us), Nope stars Oscar winner Daniel Kaluuya (Get Out, Judas and the Black Messiah) and Emmy winner Keke Palmer (Scream) as horse trainer OJ Haywood and his goofball sister, Emerald, whose lives are derailed by a mysterious phenomenon in the clouds over their ranch.
Winner of 28 awards, Nope was the 22nd biggest film of 2022 globally and has an 83% critics' rating on Rotten Tomatoes, with Daily Telegraph (UK) hailing it as "a film that does for open skies what Jaws did for the beach…"
The film's support cast includes Oscar nominee Steven Yeun (Minari), three-time Emmy winner Keith David (Greenleaf), Wrenn Schmidt (For All Mankind), and Barbie Ferreira (Euphoria, Unpregnant).
THE WOMAN KING | Stream from Saturday, 10 June
Some things are worth fighting for…
The Woman King is inspired by the remarkable story of the Agojie, the all-female unit of warriors who protected the Kingdom of Dahomey in the 1800s.
Shot in South Africa and Ghana with Moonlighting, The Woman King follows the epic journey of General Nanisca (Oscar winner Viola Davis) as she trains the next generation of recruits in preparation for battle against colonialists determined to destroy their way of life.
The Woman King has won 28 awards internationally, including Best Actress in an Action Movie for Davis at the 2023 Critics Choice Super Awards and six Black Reel awards, from Outstanding Film to Outstanding Breakthrough Actress for Pietermaritzburg-born Thuso Mbedu (Is'Thunzi, The Underground Railroad). Director Gina Prince-Blythewood (The Old Guard) was also nominated for a BAFTA.
The epic cast includes BAFTA winners John Boyega (Star Wars) and Lashana Lynch (No Time to Die); Ugandan BAFTA nominee Sheila Atim (The Underground Railroad); Benin's five-time Grammy winner Angélique Kidjo; and Nigerian breakout star Jimmy Odukoya.
The Woman King has a 94% critics' rating on Rotten Tomatoes, where the critics' consensus simply says: "All hail Viola Davis! The Woman King rules."
THE NORTHMAN | Stream from Thursday, 15 June
Written and directed by Cannes and Sundance winner Robert Eggers (The Witch, The Lighthouse), The Northman stars Emmy winner Alexander Skarsgård (Big Little Lies, Succession, True Blood), who was nominated for a 2023 Critics Choice Super Award for his performance as a Viking prince determined to avenge his father's murder.
Not released in South African cinemas, The Northman was also up for a Critics Choice Super Award for Best Fantasy Movie and has a 90% critics' rating on Rotten Tomatoes, where the critics' consensus calls it, "a breathtaking visual marvel."
The all-star cast includes Oscar winner Nicole Kidman (Big Little Lies), Emmy nominee Anya Taylor-Joy (The Menu, The Queen's Gambit), four-time Oscar nominees Ethan Hawke (The Black Phone) and Willem Dafoe (The Lighthouse), award-winning Danish actor Claes Bang (Bad Sisters), and Oscar- and 16-time-Grammy-nominee Björk.
THE FALLOUT | Stream now
The Fallout stars Golden Globe, MTV Movie Award and Critics Choice Super Award winner Jenna Ortega (Wednesday, Scream) as Vada Cavell, a survivor of a high school shooting.
Not released in South African cinemas, The Fallout has a 93% critics' rating on Rotten Tomatoes. Variety says "It's a remarkable accomplishment: a film with the confidence to pose big questions, and the humility to leave them unanswered." Vox says "The Fallout is terrific, and terrifically real." And Silver Screen Riot calls The Fallout "the first defining movie of Gen Z".
The film took home three wins at SXSW, including both the Grand Jury Award and the Audience Award for best Narrative Feature for debut feature writer-director Megan Park (The Secret Life of the American Teenager), who was named the Director to Watch at the Palm Springs International Film Festival. The Fallout was also nominated for Best Streaming Movie at the Hollywood Critics Association Television Awards, and for Outstanding Film – Streaming or TV at the 2023 GLAAD Media Awards.
People's Choice winner Maddie Ziegler co-stars, along with the likes of Black Reel nominee Niles Fitch (This is Us), Emmy winner Julie Bowen (Modern Family), and Emmy nominee Shailene Woodley (Big Little Lies).
THE BAD GUYS | Stream from Thursday, 22 June
The 17th biggest blockbuster of 2022, The Bad Guys follows a gang of notorious animal criminals pretending to seek rehabilitation in a bid to avoid prison … only for their leader to secretly find that he genuinely wants to change his ways.
Directed by Annie Award winner Pierre Perifel (Kung Fu Panda 2), The Bad Guys has an 88% critics' rating on Rotten Tomatoes, with the Guardian saying: "This is Tarantino for ankle-biters with a bit of Ocean's 11 thrown in: funny, energetic and just smart enough." Common Sense Media gives it a 4/5-star rating, recommending it for ages 6+ and saying it's "so fun, it's criminal."
The Bad Guys won the 2023 Annie Award for Outstanding Character Design and was nominated for Favourite Animated Movie at the 2023 Kids Choice Awards. Zazie Beetz was nominated for a 2023 Black Reel Award for Outstanding Voice Performance (as Diane Foxington aka The Crimson Paw), while Awkwafina was up for Favourite Voice From an Animated Movie (as Tarantula) at the 2023 Kids Choice Awards, where the film was also up for Favourite Animated Movie.
Also listen out for the likes of Oscar winner Sam Rockwell (Jojo Rabbit), Emmy winner Alex Borstein (The Marvelous Mrs. Maisel), Emmy nominee Anthony Ramos (In the Heights, Hamilton), and Critics Choice nominee Marc Maron (Super Pets, GLOW).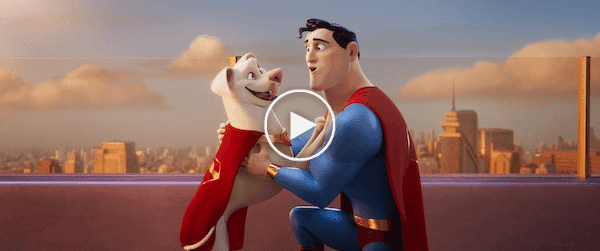 DC LEAGUE OF SUPER-PETS | Stream from Monday, 26 June
Sit! Stay! Save the world!
In DC League of Super-Pets, Krypto the Super-Dog and Superman are inseparable best friends, sharing the same superpowers and fighting crime in Metropolis side by side. When Superman and the rest of the Justice League are kidnapped, Krypto must convince a rag-tag shelter pack to master their own newfound powers and help him rescue the superheroes.
DC League of Super-Pets was nominated as Best Super-Hero Movie at the 2023 Critics Choice Super Awards and Favourite Animated Movie at the 2023 Kids Choice Awards, where Dwayne Johnson won the Favourite Voice From An Animated Movie Award as Krypto, beating out his co-star Kevin Hart as Ace.
Recommending the film for ages 6+, Common Sense Media says, "DC corrects their history of making superhero stories too dark, violent, and mature for kids with this animated tale focusing on the heroes' crime-fighting furry friends… And, with comic geniuses Kevin Hart and Kate McKinnon doing most of the lifting in the voice cast, it's definitely the funniest big-screen DC movie."
The 23rd biggest box office hit of 2022 globally, DC League of Super-Pets also features the likes of Critic Choice Award winner Diego Luna (Andor) as Chip the squirrel and Natasha Lyonne (Poker Face) as PB the potbellied pig and Merton the turtle.
FATHER OF THE BRIDE | Stream from Monday, 19 June
A father must come to grips with his daughter's upcoming wedding in a sparkling Cuban-American update of the timeless romcom Father of the Bride.
Oscar nominee Andy Garcia (Terry Benedict in the Ocean's movies, and Fernando in Mamma Mia: Here We Go Again!) stars as Billy Herrera, the father of the bride, Sofia, who is played by Adria Arjona (Andor's Bix Caleen).
Multiple Grammy winner Gloria Estefan co-stars as Sofia's mother, Ingrid; award-winner Diego Boneta (Die in a Gunfight, At Midnight) plays groom-to-be Adan; and Teen Choice nominee Isabela Merced (Dora and the Lost City of Gold) is Sofia's sister, Cora.
Not released in South African cinemas, Father of the Bride has 80% critics' rating on Rotten Tomatoes, with RogerEbert.com saying, "Garcia and Estefan and all of our feelings about weddings bring so much warmth and good humour to the movie that it calls for a 'Yes' on the RSVP."
THE ELECTRICAL LIFE OF LOUIS WAIN | Stream now
Based on an extraordinary true story, The Electrical Life of Louis Wain stars Oscar nominee Benedict Cumberbatch (Marvel's Doctor Strange, Sherlock, The Power of the Dog) as the eccentric English artist who rose to prominence at the end of the 19th century with surreal, playful, and even psychedelic cat paintings that seemed to reflect his declining sanity.
Directed and co-written by BAFTA winner Will Sharpe (who directed Landscapers and starred in The White Lotus and Giri/Haji), The Electrical Life Of Louis Wain is narrated by Oscar winner Olivia Colman (The Favourite, The Lost Daughter).
Emmy winner Claire Foy (The Crown, Women Talking) co-stars as Louis' wife, Emily Richardson, opposite the likes of Oscar nominee Andrea Riseborough (To Leslie, Birdman), Oscar-winning director Taika Waititi (Jojo Rabbit, What We Do in the Shadows) and BAFTA winner Richard Ayoade (The IT Crowd, The Crystal Maze), with musician Nick Cave as HG Wells.
The Mirror calls the multi-award-winning period drama "a charming triumph," while The Independent hails it as "completely and utterly delightful."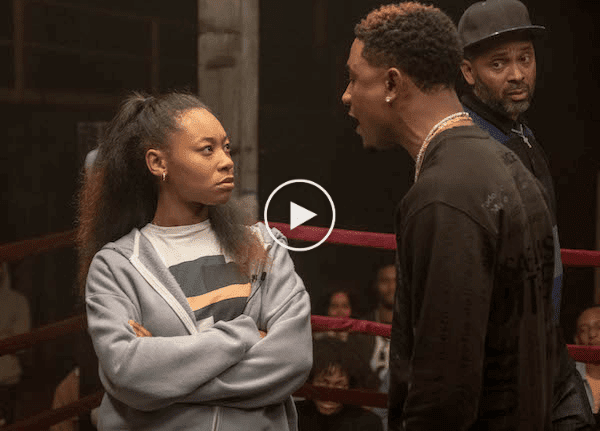 ON THE COME UP | Stream now
On The Come Up centres on Bri, a gifted 16-year-old rapper who sets out to take the battle rap scene by storm in a bid to lift up her family and do right by the legacy of her father, a local hip hop legend whose career was cut short by gang violence.
Based on The New York Times' #1 best-selling novel by award-winning novelist and former teen rapper Angie Thomas (The Hate U Give), the 2023 Black Reel-nominated screenplay was written by Emmy-nominated Nigerian writer and producer Kay Oyegun (This Is Us).
Not released in South African cinemas, On the Come Up has drawn critical praise for its star, newcomer Jamila Gray, as well as its director, Emmy nominee Sanaa Lathan (Succession, The Affair), with Variety saying: "As frank and tough-minded and as it is warm and sweet, On the Come Up is a hugely promising debut from the actor-turned-director."
In addition to directing, Lathan also plays Bri's mother, Jay, opposite the likes of Black Reel winner Da'Vine Joy Randolph (Only Murders in the Building, Dolemite Is My Name), Black Reel nominee Mike Epps (Dolemite Is My Name), Grammy-nominated rapper Lil Yachty, and Grammy-winning Wu-Tang Clan rapper Method Man, who was nominated for a 2023 Image Award for Outstanding Supporting Actor as Supreme.
TORN HEARTS | Stream from Thursday, 29 June
How far would you go for your dreams?
Things are headed south in Torn Hearts as a country music duo in Nashville seek out the private mansion of their idol, only to find out it isn't quite the dream they imagined ….
The Blumhouse horror stars Abby Quinn and Alexxis Lemire, with Golden Globe winner Katey Sagal (Sons of Anarchy's Gemma Teller Morrow and Married with Children's Peg Bundy) as former country legend Harper Dutch. Fright Meter Award nominee Shiloh Fernandez (Evil Dead) and Fangoria Chainsaw nominee Joshua Leonard (The Blair Witch Project) co-star.
Torn Hearts is exec-produced by three-time Oscar nominee Jason Blum (Get Out, The Purge, The Invisible Man, and BlacKkKlansman), directed by Emmy and Fangoria Chainsaw Award nominee Brea Grant (After Midnight) and written by Rachel Koller Croft, who was nominated for a 2023 Writers Guild of America Award for the film's script.
Torn Hearts has an 89% critics' rating on Rotten Tomatoes, with Bloody Disgusting saying the film, "combines country music's frequent themes of love and loss with horror's twisted pursuit of fame, delivering a mean thriller anchored by one playfully unhinged performance by Katey Sagal."
PERFECT FOR FATHER'S DAY NEXT SUNDAY, 18 JUNE 2023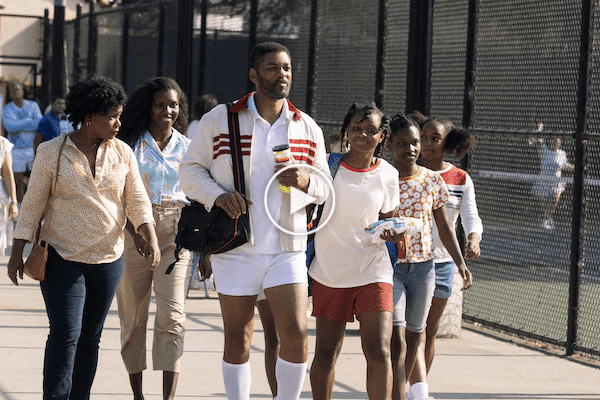 KING RICHARD | Stream now
King Richard earned Will Smith the 2022 Oscar for Best Actor as Richard Williams, a determined father raising two of the most extraordinarily gifted athletes of all time, tennis stars Venus and Serena Williams.
King Richard was also up for five more Oscars, including Best Picture, Original Song for Beyoncé's Be Alive, and Best Supporting Actress for Aunjanue Ellis-Taylor (Lovecraft Country, When They See Us) as the girls' mom, Oracene "Brandi" Williams.
As the young Venus and Serena, both Saniyya Sidney (Hidden Figures, Fences) and Demi Singleton (Godfather of Harlem) were nominated for Outstanding Breakthrough Performance at the Black Reel Awards, where Sundance winner Reinaldo Marcus Green (We Own this City, Monsters and Men) was nominated for Outstanding Director.
King Richard  has a 90% critics' rating on Rotten Tomatoes. "The Williams sisters' saga is so improbably inspirational," says FilmWeek critic Peter Rainer, "that watching their ascent, coupled with Smith's crackerjack performance, had me grinning the entire time. It's the most sheerly pleasurable movie I've seen so far this year."
I LOVE MY DAD | Stream from Thursday, 15 June
Inspired by a real experience in the life of writer, director, and star James Morosini (Dalton in The Sex Lives of College Girls), I Love My Dad follows Chuck (Emmy winner Patton Oswalt), a hopelessly estranged father who desperately wants to reconnect with his troubled son, Franklin (Morosini). Blocked on social media and concerned for his son's life, Chuck creates a fake online identity as waitress Becca, but things start to spiral when his inadvertent catfishing leads to Franklin falling for this imaginary girl.
Perfect for Father's Day, I Love My Dad won both the Grand Jury Award and the Audience Award for Best Narrative Feature at the SXSW Film Festival last year. I Love My Dad "takes cringe comedy to the next level," says Screen Daily, while Daily Beast says it, "will have you cackling, cringing and screaming."
Not released in South African cinemas, I Love My Dad is the feature debut of YouTuber and Teen Vogue channel host Claudia Sulewski, who plays the fictional Becca, and co-stars MTV Movie Award winner Lil Rel Howery (Get Out).
EVERYTHING ON SHOWMAX IN JUNE 2023
To see everything on Showmax in June 2023, including the true-crime documentary series 
Rosemary's Hitlist
, from the production company behind 
Devilsdorp
 and 
Steinheist
, as well as first seasons of buzzy international series like 
The Idol
 and 
Mrs. Davis
, click 
here
.