Short-form mobile video platform TikTok has announced a new way by which caregivers can support their teen's viewing experience through Family Pairing and sharing information about their work to launch TikTok's Youth Council.
Adding content filtering to Family Pairing
The development is a follow-up to last year update when TikTok launched a content filtering tool to allow people to filter out videos with words or hashtags they'd prefer to avoid seeing in their For You or Following feeds. Since then, TikTok hase heard from parents and caregivers that they'd like more ways to customise the topics their teens may prefer not to stumble upon, as every teen is unique and caregivers are often closest to their teen's individual needs. That's why the platform has brought the tool to Family Pairing to empower caregivers to help reduce the likelihood of their teen viewing content they may uniquely find jarring.
To adapt this feature for Family Pairing, the platform engaged with experts, including the Family Online Safety Institute, on how to strike a balance between enabling families to choose the best experience for their needs while also ensuring it respects young people's rights to participate in the online world. Therefore, by default, teens can view the keywords their caregiver has added in the belief that this transparency can also help to prompt conversations about online boundaries and safety. The keywords caregivers add will be a personalised layer on top of TikTok's Content Levels system, which already helps to keep content with more mature or complex themes from reaching audiences between ages 13-17.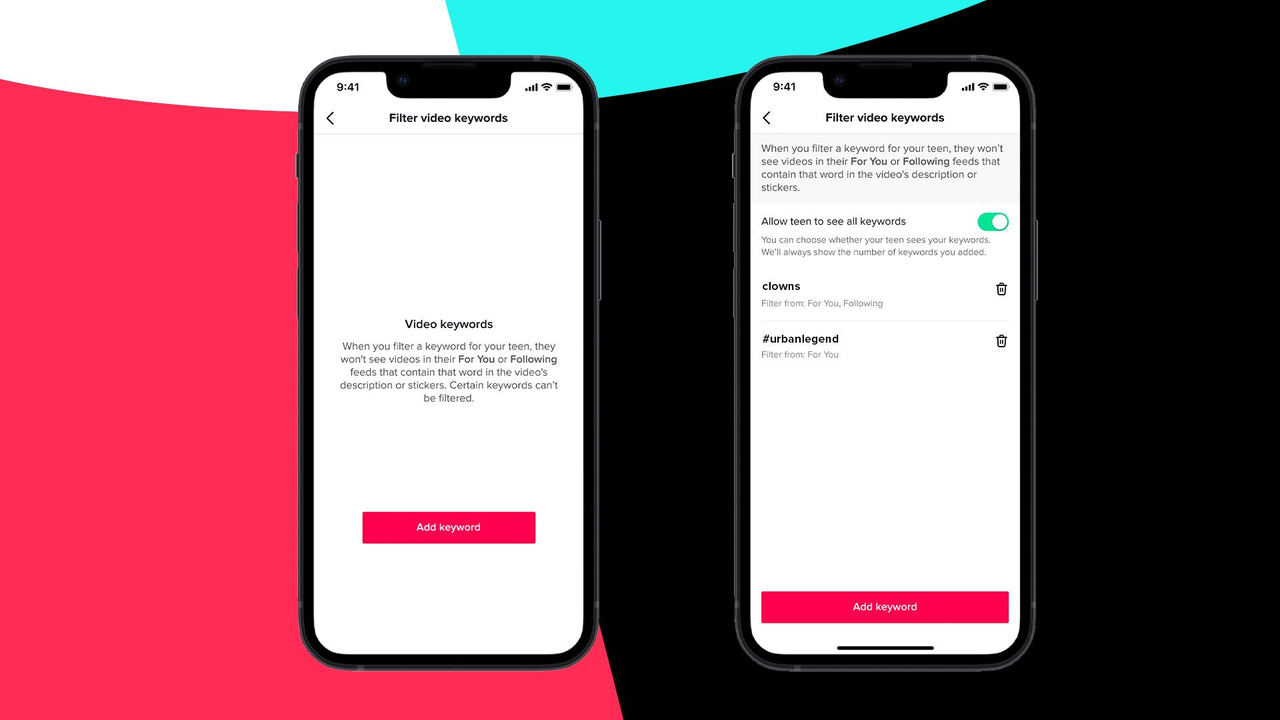 Forming TikTok's Youth Council
Listening to the experience of teens is one of the most important steps TikTok can take to build a safe platform for teens and their families. It helps the platform to avoid designing teen safety solutions that may be ineffective or inadequate for the actual community they're meant to protect, thereby bringing TikTok closer to being a strong partner to caregivers as it can better represent teens' safety and well-being needs.
Later this year, TikTok will launch its global Youth Council to enable it to better listen to the experiences of those who directly use the platform and be better positioned to make changes to create the safest possible experience for the community.
"We already work to engage with teens and act based on their feedback. For example, within Family Pairing, we provide tips for caregivers that we developed in collaboration with teens. These outline the support teens would like and their suggestions on how to approach conversations about digital literacy and safety. In a similar way to how we engage regularly with more than 50 academics and leading experts from around the world through our Content and Safety Advisory Councils, this new Youth Council will provide a more structured and regular opportunity for youth to provide their views. We're looking forward to sharing more in the coming months about this forum and how teens can take part," TikTok noted in a statement.
"Our work to help create a safe place for teens and families has no finish line. In March, we set every teen's daily screen time to 60 minutes by default, with almost three-quarters of teens choosing to keep the limit. For those who opt out of the default but spend more than 100 minutes on TikTok in a day, we continue to encourage these teens to use our screen time management tools. Also in March, we started to prompt our community to learn more about Family Pairing and, so far, we've reached more than 400 million people with this information. We're proud that through Family Pairing, we support more than 850,000 teens and their families in setting guardrails based on their individual needs. As we learn more, we do more to protect and empower our community and we look forward to sharing more about our progress in the future."